A service of Holy Communion – as we meet remotely, apart but yet united in faith, hope and love.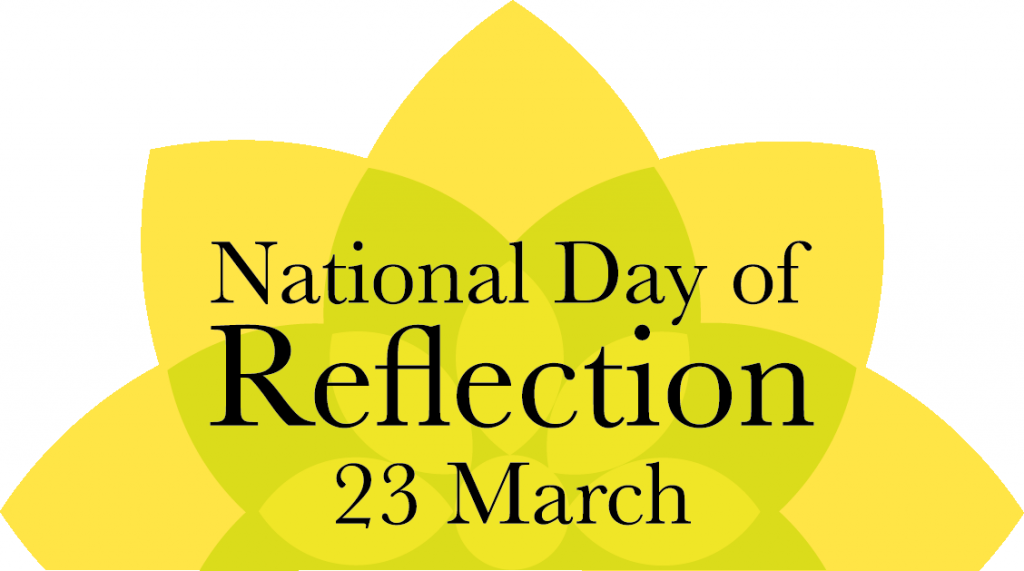 A prayer of preparation as we wait to meet together and as we prepare for the National Day of Reflection on Tuesday.
When disaster strikes and darkens our world, restore us by your light.
When denial leads to despair and numbs our soul, renew us by your hope.
When despair turns to anger as we seek to make sense of the past year, calm us by the power of your Holy Spirit.
When doubts seem set to overwhelm us speak words of faith into our hearts.
When even the way ahead out of lockdown seems unsure revive our trust in you.
When we recall sorrows of this past year replace our sadness with your peace.
As we bring our worship to you Help us to trust in you with all our heart, lean not on our own understanding. In all our ways may we acknowledge you, assured that you will direct our path. Amen

Opening hymn: Lord for the year
s
Grace mercy and peace
from God the Father
and the Lord Jesus Christ be with you.
And also with you.


Prayer of Preparation
Almighty God, to whom all hearts are open, all desires known, and from whom no secrets are hidden: cleanse the thoughts of our hearts by the inspiration of your Holy Spirit,
that we may perfectly love you, and worthily magnify your holy name; through Christ our Lord. Amen.
Prayers of Penitence
Your unfailing kindness, O Lord, is in the heavens,and your faithfulness reaches to the clouds.
Lord, have mercy. Lord, have mercy.
Your righteousness is like the strong mountains and your justice as the great deep.
Christ, have mercy. Christ, have mercy.
For with you is the well of life, and in your light shall we see light.
Lord, have mercy. Lord, have mercy.
Almighty God, who forgives all who truly repent, have mercy on you,
pardon and deliver you from all your sins,
confirm and strengthen you in all goodness,
and keep you in life eternal
through Jesus Christ our Lord. Amen
The Collect (Prayer for the day)
Most merciful God,
who by the death and resurrection of your Son Jesus Christ delivered and saved the world:
grant that by faith in him who suffered on the cross
we may triumph in the power of his victory;
through Jesus Christ your Son our Lord, who is alive and reigns with you,
in the unity of the Holy Spirit,
one God, now and for ever.
Amen
The Liturgy of the Word
(Jeremiah 31:31-34)
The days are surely coming, says the Lord, when I will make a new covenant with the house of Israel and the house of Judah. 32 It will not be like the covenant that I made with their ancestors when I took them by the hand to bring them out of the land of Egypt—a covenant that they broke, though I was their husband, says the Lord. 33 But this is the covenant that I will make with the house of Israel after those days, says the Lord: I will put my law within them, and I will write it on their hearts; and I will be their God, and they shall be my people. 34 No longer shall they teach one another, or say to each other, 'Know the Lord,' for they shall all know me, from the least of them to the greatest, says the Lord; for I will forgive their iniquity, and remember their sin no more.
This is the word of the Lord. Thanks be to God
Psalm 51:1-12
Have mercy on me, O God,
according to your steadfast love;
according to your abundant mercy
blot out my transgressions.
2 Wash me thoroughly from my iniquity,
and cleanse me from my sin.
3 For I know my transgressions,
and my sin is ever before me.
4 Against you, you alone, have I sinned,
and done what is evil in your sight,
so that you are justified in your sentence
and blameless when you pass judgment.
5 Indeed, I was born guilty,
a sinner when my mother conceived me.
6 You desire truth in the inward being;
therefore teach me wisdom in my secret heart.
7 Purge me with hyssop, and I shall be clean;
wash me, and I shall be whiter than snow.
8 Let me hear joy and gladness;
let the bones that you have crushed rejoice.
9 Hide your face from my sins,
and blot out all my iniquities.
10 Create in me a clean heart, O God,
and put a new and right spirit within me.
11 Do not cast me away from your presence,
and do not take your holy spirit from me.
12 Restore to me the joy of your salvation,
and sustain in me a willing spirit.
Music for reflection: God so loved the world
Gospel Reading

(John 12: 20-33)
When the Gospel is announced, the reader says
Hear the Gospel of our Lord Jesus Christ according to N Glory to you, O Lord.
Now among those who went up to worship at the festival were some Greeks. 21 They came to Philip, who was from Bethsaida in Galilee, and said to him, "Sir, we wish to see Jesus." 22 Philip went and told Andrew; then Andrew and Philip went and told Jesus. 23 Jesus answered them, "The hour has come for the Son of Man to be glorified. 24 Very truly, I tell you, unless a grain of wheat falls into the earth and dies, it remains just a single grain; but if it dies, it bears much fruit. 25 Those who love their life lose it, and those who hate their life in this world will keep it for eternal life. 26 Whoever serves me must follow me, and where I am, there will my servant be also. Whoever serves me, the Father will honour.
27 "Now my soul is troubled. And what should I say—'Father, save me from this hour'? No, it is for this reason that I have come to this hour. 28 Father, glorify your name." Then a voice came from heaven,
"I have glorified it, and I will glorify it again." 29 The crowd standing there heard it and said that it was thunder. Others said, "An angel has spoken to him." 30 Jesus answered, "This voice has come for your sake, not for mine. 31 Now is the judgment of this world; now the ruler of this world will be driven out. 32 And I, when I am lifted up from the earth, will draw all people to myself." 33 He said this to indicate the kind of death he was to die.
This is the gospel of the Lord Praise to you, O Christ.
A short homily or reflection may be shared.
The Creed
We believe in one God, the Father, the Almighty, maker of heaven and earth, of all that is, seen and unseen. We believe in one Lord, Jesus Christ, the only Son of God, eternally begotten of the Father, God from God, Light from Light, true God from true God, begotten, not made, of one Being with the Father; through him all things were made. For us and for our salvation he came down from heaven, was incarnate from the Holy Spirit and the Virgin Mary and was made man.
For our sake he was crucified under Pontius Pilate; he suffered death and was buried. On the third day he rose again in accordance with the Scriptures; he ascended into heaven and is seated at the right hand of the Father. He will come again in glory to judge the living and the dead, and his kingdom will have no end.
We believe in the Holy Spirit, the Lord, the giver of life, who proceeds from the Father and the Son, who with the Father and the Son is worshipped and glorified, who has spoken through the prophets.
We believe in one holy catholic and apostolic Church. We acknowledge one baptism for the forgiveness of sins. We look for the resurrection of the dead, and the life of the world to come.
Amen.
Prayers of Intercession


We sit or kneel.
This or another suitable response may be used.
Lord, in your mercy
hear our prayer.
At the end
Merciful Father,
accept these prayers
for the sake of your Son,
our Saviour, Jesus Christ. Amen.
The Liturgy of the Sacrament
The Peace
These or other words may be used to introduce the Peace.
We are all one in Christ Jesus. We belong to him through faith, heirs of the promise of the Spirit of peace.
The peace of the Lord be always with you and also with you
Blessed are you, Lord God of all creation: through your goodness we have this bread to offer, which earth has given and human hands have made. It will become for us the bread of life.
Blessed be God for ever.
Blessed are you, Lord God of all creation: through your goodness we have this wine to offer, fruit of the vine and work for human hands. It will become for us the cup of salvation.
Blessed be God for ever.
The Eucharistic Prayer
The Lord be with you
and also with you.
Lift up your hearts.
We lift them to the Lord.
Let us give thanks to the Lord our God.
It is right to give thanks and praise.
Father, you made the world and love your creation
You gave your Son Jesus Christ to be our Saviour.
His dying and rising have set us free from sin and death.
And so we gladly thank you,
with saints and angels praising you, and saying:
Holy, holy, holy Lord,
God of power and might,
heaven and earth are full of your glory.
Hosanna in the highest.
[Blessed is he who comes in the name of the Lord.
Hosanna in the highest.]
We praise and bless you, loving Father,
through Jesus Christ, our Lord;
and as we obey his command,
send your Holy Spirit,
that broken bread and wine outpoured
may be for us the body and blood of your dear Son.
On the night before he died, he had supper with his friends, and, taking bread, he praised you.
He broke the bread, gave it to them and said:
Take, eat; this is my body which is given for you;
do this in remembrance of me.
When supper was ended he took the cup of wine.
Again he praised you, gave it to them and said:
Drink this, all of you;
this is my blood of the new covenant,
which is shed for you and for many for the forgiveness of sins.
Do this, as often as you drink it, in remembrance of me.
So, Father, we remember all that Jesus did,
in him we plead with confidence his sacrifice
made once for all upon the cross.
Bringing before you the bread of life and cup of salvation,
we proclaim his death and resurrection
until he comes in glory.
Praise to you, Lord Jesus:
Dying you destroyed our death,
rising you restored our life
Lord Jesus, come in glory
Lord of all life,
help us to work together for that day
when your kingdom comes
and justice and mercy will be seen in all the earth.
Look with favour on your people,
gather us in your loving arms
and bring us with [N and] all the saints
to feast at your table in heaven.
Through Christ, and with Christ, and in Christ, in the unity of the Holy Spirit,
all honour and glory be yours, O loving Father, for ever and ever. Amen
The Lord's Prayer


Let us pray with confidence as our Saviour has taught us
Our Father, who art in heaven,
hallowed be thy name;
thy kingdom come; thy will be done;
on earth as it is in heaven.
Give us this day our daily bread.
And forgive us our trespasses,
as we forgive those who trespass against us.
And lead us not into temptation;
but deliver us from evil.
For thine is the kingdom, the power and the glory, for ever and ever. Amen
The Breaking of Bread


We break this bread to share in the body of Christ.
Though we are many, we are one body, because we all share in one bread.
Agnus Dei
Jesus, Lamb of God, have mercy on us.
Jesus, bearer of our sins, have mercy on us.
Jesus, redeemer of the world, grant us peace.
Giving of Communion


Jesus is the Lamb of God
who takes away the sin of the world.
Blessed are those who are called to his supper.
Lord, I am not worthy to receive you,
but only say the word and I shall be healed.
Post Communion Prayers
Lord Jesus Christ, You have taught us That what we do for the least of our brothers and sisters We do also for you: Give us the will to be the servant of others As you were the servant of all, And gave up your life and died for us, But are alive and reign, now and for ever.
Amen.
Almighty God, we thank you for feeding us with the body and blood of your Son Jesus Christ. Through him we offer you our souls and bodies to be a living sacrifice.
Send us out
in the power of your Spirit
to live and work
to your praise and glory. Amen
Hymn:

The servant king
Blessing and Dismissal
The following or a seasonal blessing is said
The love of the Lord Jesus
draw you to himself;
the power of the Lord Jesus
strengthen you in his service;
the joy of the Lord Jesus fill your hearts;
and the blessing of God almighty,
the Father, the Son, and the Holy Spirit,
be among you and remain with you always. Amen.
Go in peace to love and serve the Lord.
In the name of Christ.
Amen

Common Worship: Services and Prayers for the Church of England, material from which is included in this service booklet, is copyright © The Archbishops' Council 2000.
CCLI: 2282502